4 Seasons Home Inspections now includes thermal imaging of specific areas in all of our home inspections — at no additional charge. Why? Because we believe in utilizing the most advanced technology to provide the best protection for homebuyers and homeowners alike.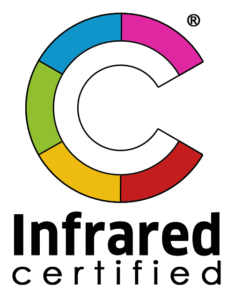 We are certified in thermal imaging, also known as infrared, by the International Association of Certified Home Inspectors (InterNACHI). That means our inspectors have completed specialized training in these inspections, and they know how to spot trouble areas where this imaging is important.
Why does thermal imaging matter?
Thermal imaging allows your inspector to capture more information than is visible to the human eye. It can reveal hidden issues such as moisture in walls and ceilings, places your home is leaking air (and losing energy), even clogs in plumbing systems. It's particularly effective at finding things where access is difficult, such as behind dishwashers and appliances.
Our infrared cameras also can locate hot spots, including overloaded circuits, overheated equipment and electrical faults. They can help identify pest infestations, too.
And at the end of your inspection, you'll receive photo documentation so you can see any issues, along with a full explanation from your inspector.
Can you scan the entire home with your infrared camera?
We perform full-home infrared inspections as a separate service by request. They are not intended to replace a standard home inspection. Contact us at (206) 316-8665, (425) 320-1127 or info@4seasonsinspects.com for a quote.
Who needs a thermal-imaging inspection?
Homeowners or potential buyers with specific concerns, such as air or water leaks, flat roofs (which can cause moisture issues) or hot or cold spots, can benefit from a full infrared inspection. For standard home inspections, your inspector will automatically use this technology on trouble spots and areas where it is deemed appropriate.
The experts at 4 Seasons Home Inspections can help you save thousands of dollars or more in repair costs by finding small problems before they turn into major issues — or by warning you about potential pitfalls in a home you're considering purchasing.
Call (206) 316-8665 or (425) 320-1127 today to set up your sewer inspection, or send us a request via email at info@4seasonsinspects.com.