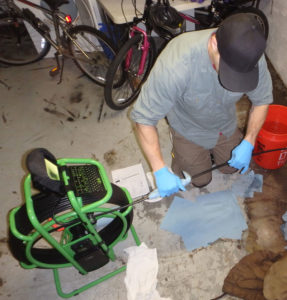 Sewer problems often are a nasty surprise for homeowners — and if they aren't caught early, it can cost tens of thousands of dollars to replace a line or make complicated repairs.
It's hard to catch those problems early, though, because they often go undetected until a toilet backs up or something else significant happens. And at that point, it's often too late to make preventive repairs.
A video sewer inspection by 4 Seasons Home Inspections can help.
Video makes it easy and convenient to check for small issues before they become big ones. We send a high-definition camera through your lines, which means we can pinpoint and mark the exact problem area. That way, if a repair company needs to come in, the work can be as unobtrusive as possible.
Who needs a sewer inspection?
Anyone experiencing sewer problems, such as clogged drains or toilets, water backing up or drains that are slow to clear.
Anyone considering making an offer to purchase a home.
Homeowners who recently purchased a home and didn't have a sewer inspection with their home inspection.
Homeowners with homes 20+ years old that have never had a sewer inspection.
What does it cost?
Compared to costly sewer-line repairs, a video sewer inspection is very affordable. When performed with one of our home inspections, the cost is $250; on its own, a sewer inspection is just $300. Either way, it's a small price to pay for peace of mind.
With a 4 Seasons sewer inspection, you can rest assured that our only goal is to determine the health of your sewer pipes, not to sell you an expensive repair job. We specialize in home inspections — we don't do sewer repair. Whether everything looks good, there's a minor problem or something bigger, you'll get the straight story from us.
Call (206) 316-8665 or (425) 320-1127 today to set up your sewer inspection, or send us a request via email at info@4seasonsinspects.com.